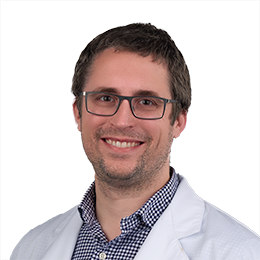 Christopher Miller, MD
My favorite part of my profession is giving people control over their health.
About Christopher Miller, MD
Dr. Christopher Miller has always had an interest in medicine, explaining that both his father and grandfather were also physicians. His favorite part of his profession is "giving people control over their health." Dr. Miller especially loves educating and empowering patients. He likes learning what they know about their health and providing them with treatment options. Dr. Miller strives to listen more than talk during appointments. "I hope I'm making them feel more secure with their health," he says. To keep up with evolving medical advancements, he takes advantage of educational opportunities and researches any topics of interest.
When not with patients, Dr. Miller enjoys reading, exercising, and spending time with his wife.