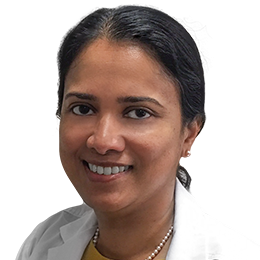 Tara Rajesh, MD
I see myself as a healer and mentor whose primary function is to educate, empower and motivate patients to become full partners in their own healing, health maintenance and well-being.
About Tara Rajesh, MD
Doctor Tara Rajesh is a board-certified family practitioner. She earned her medical degree from Medical College Trivandrum in India. She completed her family medicine internship at Mercy Health Partners in Toledo, Ohio and her family medicine residency at Adventist La Grange Me-morial Hospital in La Grange, Illinois. Dr. Rajesh is a member of the American Medical Association, the American Board of Family Medicine, the American Academy of Family Physicians and the Illinois Academy of Family Physicians.
"I enjoy educating and empowering patients to achieve their healthcare goals," said Dr. Rajesh. "I see myself as a healer and mentor whose primary function is to educate, empower and motivate patients to become full partners in their own healing, health maintenance and well-being."